By Patty Wilber  
The Eumelanin gene*and the Agouti gene** control red, black and bay coat colors in horses, as described last week.  
The Cream gene can modify the base colors and controls the production of the buckskin and palomino colors, while the dun gene creates a different modification  of the base colors resulting in dun, red dun and grulla colors.  
Buckskin and dun are sometimes confused, because they can look alike in some respects.  They are, however, controlled by different genes.  
Each horse has two versions of every gene (one from its mom and one from its dad) and the Cream gene (Cr or cr) is no exception. Thus, any individual horse can be "cr cr", "Cr cr" or "Cr Cr".  
But what is the effect of that? The Cr version causes dilution of the base colors, and the final result depends on how many Cream genes a horse has and what the orginal base color was.    
If a horse has only the "normal" (cr cr) versions, there is no change of the base coat color.  
A sorrel horse  (chestnut, red) with one copy of the Cream gene and one normal version (Cr cr) becomes a palomino. The red is diluted to gold and the mane and tail become white.    
Genetically, a chestnut is eeAA, eeAa or eeaa.  "ee" = red and the Agouti gene has no effect, so we can write its genes as ee__, with the blank showing that any of the Agouti versions can be present and the horse is still red.  If we add a single "Cr", we have ee___Crcr, and this is a palomino.    
A palomino parent has a 50% chance of giving the "Cr" version (the dilution factor) to its offspring and a 50% chance of giving the "cr" (normal-no dilution).   
This brings me to Longshot.  His mom is a palomino: ee__Crcr (a red horse that was diluted)  His dad is a chestnut: ee__crcr.  From his dad, Longshot got e_cr.  From his mom he got e_cr.  So, Longshot is ee__crcr = red.  Longshot does not carry the Cream gene.  He cannot pass the Cream gene on.  If a red  horse has the Cream gene, you can see it in the coat color; it is never hidden.    
Note: Longshot is still sore on his bad leg, but it has uncurled!  He also has a cold, so he's a little droopy.  
Longshot has a full sister, Squirt.  She is a palomino.  Where did she get the Cr gene?  From her mother!  
When the Cr gene is found in a horse with a bay base coat, the result is a buckskin.  A gold body with black mane, tail, legs, ears.  The red of the body is diluted to gold, but the black is not affected.   
 I recently bought a buckskin filly (Lacey).  Her mother is a buckskin and gave Lacey the Cr gene.  Her father is a red dun, but he did not pass the dun factor on–darn!  A dunskin would have been cool!
 If I bred my buckskin filly to Tabooli (a palomino), the result could be a horse that is a double dilute (25% chance).  CrCr.  They are nearly white in appearance, as the base color is double diluted!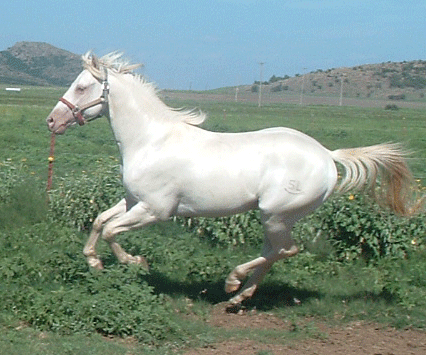 A black horse with a Cream gene results in a color called smoky black, but it can be a bit tricky to identify visually.    
To have your horse tested for the Eumelanin, Agouti or Cream genes, try UC Davis!    
The Dun Factor is controlled by a dominate allele.  Horses that are "DD" or "Dd" have dun characteristics, but horses that are "dd", do not.    
A red base color horse (ee__) + the Dun Factor (DD or Dd) produces a red dun.  Red duns have a reddish gold body, with darker red legs, mane and tail and ear tips.  In addition, they have a dorsal stripe that extends into the tail, stripes on the legs and sometimes a stripe on the withers.  Penny is a red dun.    
 A bay base color horse (E_A_) + the Dun Factor results in a dun.  Duns have a body color that ranges from gold to reddish brown with black points.  In addition, they have a black/ dark dorsal stripe, black stripes on the legs and sometimes a stripe on the withers. Duns are frequently confused with buckskins (but they lack the leg barring and dorsal stripe), and you can see why in the picture below    
A black base color horse (E_aa) + the Dun Factor produces a grulla.  The dorsal striping and dark points are evident but the body is a silvery color.  It is very striking!    
The American Buckskin Horse Associaton registers  duns, red duns, grullas and buckskin, but not palominos or double dilutes.     
Can a horse be both buckskin and dun?  Yes!  Hollywood Dun It was. I was hoping my new filly Lacey would have both because when bred, a dunskin would be a higher percentage color producer!  A horse could be a palomino and a dun, too!    
 —————————————————————————————    
*Eumelanin gene:  "E" version-the horse can make black pigment and "e" version-the horse cannot make black.     
**Agouti gene: "A" version-if the horse has black, the black is restricted to the legs, tail, mane and ears and the"a" version-if the horse has black, it is allover–it is not restricted.